Our Staff
Meet the All-Star Team!
Instructors

Miss Amanda (Swim Instructor)
Miss Amanda joined the All-Star team in 2011. It is very important to her that all children are safe in the water and can enjoy the water as well. She feels that swimming and swim lessons can be a valuable and exciting experience for children of all ages. Amanda enjoys watching the children progress in swimming, as well as making sure that it is a fun experience and learning environment.
Since the age of one, the water and swimming have been a huge part of Amanda's life. At the age of three, she became a part of the recreational swim team "Woodlands". She quickly fell in love with swimming and the water. At the age of seven, Amanda moved from the recreational swim team to the USA swim team "Terrapins". When she turned 12, she started playing water polo and fell equally in love with that.
Amanda attended Clayton Valley High School where she was on the varsity swim team for all four years, as well as on their water polo team. After high school, Amanda attended Diablo Valley College where she continued to swim for another two years. During this time, she also coached the Junior Varsity swim team at Clayton Valley High School. After DVC, Amanda transferred to CSU East Bay where she graduated with a degree in Liberal Studies. In the future, Amanda plans to return to school to get her teaching credential.

Miss Tania (Swim Instructor)
Miss Tania joined the All-Star team in the summer of 2014. She is a former preschool teacher, and has been teaching swim lessons for over 10 years. Miss Tania has worked with swimmers of all ages and believes that swimming is not only a life skill, but that it's a pastime that all should enjoy.
Miss Tania has always enjoyed being around the water, and many of her early years were spent boating on the lake with her family. She went on to attend San Francisco State University and obtained a B.A. in Child Development. If Miss Tania is not in the water, you can find her hiking with her dog or cooking a new dish with her husband.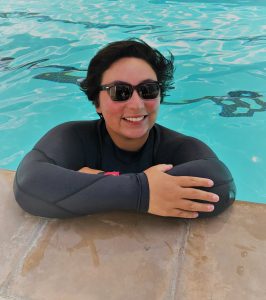 Miss Sam (Swim Instructor)
Miss Sam joined the All-Star team in April 2015. She has a background of ten years of competitive swimming as well as over ten years of teaching experience. Miss Sam has had the opportunity to teach at four different swim programs and her aquatic teaching background covers physical therapy, swim technique/swim team prep, learn 2 swim and play swim. Additionally, she served as a Jr. swim team coach for three years. Miss Sam cares greatly for the safety of all swimmers, and this encouraged her to be a lead lifeguard for nine years.
Miss Sam has a B.S. in Biology and in her free time, she loves doing arts and crafts.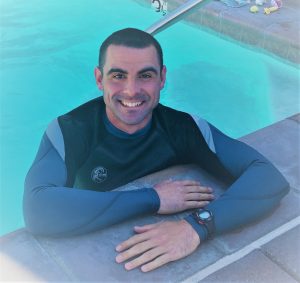 Mr. Darel (Swim Instructor)
Mr. Darel joined the All-Star team in April 2016 with an extensive swim background. He swam on his high school swim team for all four years and played high school water polo for two years. After high school, Mr. Darel joined the US Navy and took part in water safety and survival training. He has also been certified for open water scuba diving.
Mr. Darel is currently working towards a B.A. Degree in Kinesiology with an emphasis in Sports Medicine. In his spare time, he enjoys camping, hiking, going to the gym, and spending time with family. Mr. Darel feels passionately about the skills that are taught at All-Star and the methods used to teach these important skills.

Miss Louisa (Swim Instructor)
Miss Louisa joined the All-Star team in February 2017 with over 10 years' experience working with children in a variety of settings, including swim instructor, private music teacher and youth counselor. Her passion for swimming began at age three and eventually earned her a spot on the USMS Master's Swim Team (where she was seconds away from an Olympic qualifying time). In her spare time, Miss Louisa enjoys music composition and playing in her church's band.
Miss Louisa loves to watch her students makes progress in the one-on-one lessons, and enjoys introducing detailed swim techniques to help young swimmers improve their strokes.

Miss Tiffany (Swim Instructor)
Miss Tiffany joined the All-Star team in April 2017 after relocating to California from Texas. Her love of swimming began at age three and continued through high school. Prior to joining All-Star, Miss Tiffany worked as both a lifeguard and a preschool teacher.
Miss Tiffany feels passionately about the futures of both children and young adults alike, and plans to continue her education to become a teacher and then eventually a college professor. She enjoys working at All-Star because she loves being able to combine a teaching role with her love of swimming and the water. Additionally, she finds the environment at All-Star to be comforting and warm, where everyone is treated with care. In her spare time, Miss Tiffany enjoys painting and the outdoors.

Miss Shannon (Swim Instructor)
Miss Shannon joined the All-Star team in March 2017. She has a lifelong love of the water that began when she started swimming at age three. She swam on a community swim team from ages 5 to 13, and taught swimming lessons to children when she was 15. She quickly fell in love with the job!
Miss Shannon will graduate from CSU East Bay in the Spring of 2018 with a B.F.A. in Graphic Design. In her spare time, she enjoys spending time with her family, particularly her young nephew. Miss Shannon enjoys working at All-Star because of the welcoming atmosphere, supportive staff, and the one-on-one lesson format which allows her to teach each child based on their specific needs and abilities.