Our Staff
Meet the All-Star Team!
Instructors

Amanda (Lead Swim Instructor & Trainer)
Since the age of 1, the water and swimming has been a huge part of Amanda's life. At the age of 3 she became a part of the recreational swim team Woodlands. She quickly fell in love with swimming and the water. At the age of 7, Amanda moved from the recreational swim team to the USA swim team Terrapins. When she turned 13 she started playing water polo and equally fell in love with that too. Amanda attended Clayton Valley High School where she was on the varsity swim team for all 4 years as well as on their water polo team. During her time on the high school swim team, she saw her times excel and well as her love for swimming. After high school, Amanda attended Diablo Valley College where she continued to swim for another 2 years. During this time she also coached the Junior Varsity swim team at Clayton Valley High School. In the fall of 2013, Amanda transferred to CSU East Bay where she is studying to obtain her teaching credential as well as a credential in Special Education.
Miss Amanda has been a part of the All-Star family since 2011. It is very important to her that all children are safe in the water and can enjoy the water as well. She feels that swimming and swim lessons can be a valuable and exciting experience for children of all ages. Amanda enjoys watching the children progress in swimming, as well as making sure that it is a fun experience and learning environment.
Sam (Assistant Lead Swim Instructor)
Sam grew up in Martinez but has made Pleasanton her home. She learned how to swim when she was 9 and has hardly left the water since. She swam for her local community team for 9 years and began teaching 6 and under swimmers when she was 15 years old. Since then she has been teaching in the water for the past eight summers. She has taught fellow swim instructors to children with special needs.
After achieve a Bachelor's degree in biology she worked in aquatic therapy for the elderly. She joined the All Star team in March of 2015 to learn more about water safety for children of all levels. Her favorite part of teaching is making new friends and watching the students grow.
In high school she was a long distance swimmer and varsity water polo player. And in college played club water polo. Her water abilities have stretched so far as the open water swimming circuit. For Sam, there's no place she would rather be than in the water. When Sam is not in the water or the office she is trekking the Dublin hills with her dog Zi Zi and a camera.

Tania (Swim Instructor)
Miss Tania has been a part of the All Star Family since the summer of 2014. She has been teaching swim lessons for the past ten years. Tania has worked with people of all ages and believes that swimming is not only a life skill, but that it's a pastime that all should enjoy. Miss Tania has always enjoyed being around the water. Many of her early years were spent boating on the lake with her family. This is something that she continues to do to this day.
If Miss Tania is not in the water you can find her hiking with her dog or cooking a new dish with her husband. Miss Tania is an alumni of San Francisco State University where she received a B.A. in Child Development. Miss Tania enjoys working with children of all ages and has a true passion for teaching.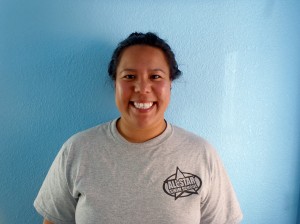 Melissa (Swim Instructor)
Melissa was born and raised in Hawaii. She began swimming at the age of 5 and swam for both club teams and her school teams. She really enjoyed swimming breaststroke and the Individual Medley. At the age of 8 she was introduced to Water Polo and fell in love. She both swam and played water polo through her junior year of college.
Melissa left Hawaii and moved to California to attend Whittier College. While there she not only played water polo and swam for the school, but she also received her BA in Kinesiology with an emphasis in physical education. While attending college, she would spend the summers in Hawaii teaching swim lessons. After college she worked at a swim school in Orange County as a swim instructor, then moved back home and became a substitute teacher and swim instructor.
After a year back in Hawaii, Melissa moved back to Southern California and attended CSU Long Beach to get her single subject credential in P.E. After receiving her credential she worked for a company called Ability First where she was an aquatic coordinator and managed the aquatics program. Her last job before joining the All-Star family in January 2015 was managing 2 facilities at another swim school down south. Overall, she has been teaching swim lessons for 12 years with ages ranging from 3 months – adults.

Rachel (Swim Instructor)
Rachel's hometown is Hilo, Hawaii. She has been a competitive swimmer for 15 years. She currently attends CSU East Bay, majoring in Hospitality Management and minoring in Recreation. She is currently a member of the CSU East Bay swim team as a middle-long distance freestyler. She has always enjoyed the competitiveness with other hard working people.
Rachel has taught swim lessons for the past 6 summers and joined the All-Star family in June 2014. She loves to watch a child improve and enjoy the water. She has taught a lot of children ranging from as young as 4 years old and helped them with their fears of the water. It always made her happy to see them playing in the element they were scared of by the end of every summer. Rachel's goal in the future is to be apart of managing events, however she would still like to incorporate swimming or any other recreational activities into her life.